The Encyclopedia of Jewish Symbols by Ellen Frankel and Betsy Platkin Teutsch, describes light as a pervasive symbol in Jewish theology and tradition, where it is "the primary link between divine and human worlds." Since God's first act of creation is to create light, light is associated with creative power. In mystical thought, divinity is pictured as a source of endless light: Ohr Ein Sof. Light is a symbol of Torah, "For a commandment is a lamp, and Torah is light." (Proverbs 6:23). Light also has a moral association; the people of Israel are called upon to be an ethical example, "a light unto the nations" (Isaiah 24:6).
Meander down the path in this Gateway of Light to explore the symbol of light in Jewish tradition and in your life.
Choose your favorite Pathway, or follow them in order: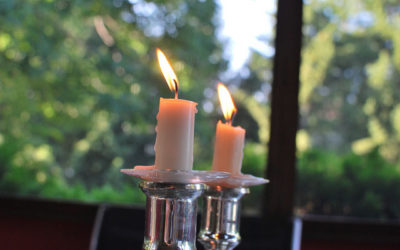 Shabbat, the Sabbath, and Jewish holidays all begin with the kindling of lights in the home. By lighting candles, we emulate God, whose first act of creation was making light, and we reveal the hidden light by welcoming in Shabbat, a day-long taste of the Garden of...
Inspired Images
by Julie Danan