At the heart of a retreat center there is often a garden.
When I think of Elat Chayyim retreat center in Accord New York (now incorporated into the Isabella Freedman Jewish Retreat Center in Connecticut), I picture the large organic garden. Earthy scents, warm soil, the buzzing bees lulled me into a state of peace each time I stepped inside its gate. The garden produced much of the food for the retreat center's scrumptious vegetarian meals, and it also provided a spot for meditation, whether at work pulling weeds or sitting in stillness.
For some people, a garden is a place to grow food or flowers and connect with the soil. It's a place to be most human because Adam, the first human being, was shaped from Adamah, earth. A garden may be a large and lavish backyard mini-farm like that of many of my friends in Northern California, a plot in a bustling community garden, a container garden on a city balcony, or a even a houseplant jungle.
Choose your favorite Pathway, or follow them in order: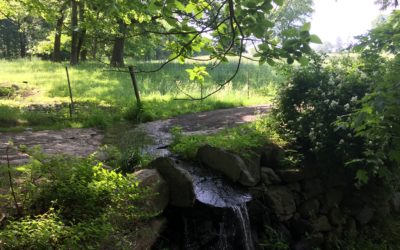 Continue to the next path: read some reflections by gardeners or return to the Gateway of Gardens Featured image: meadow and stream at Rockefeller State Park Preserve, Pleasantville, New York, JHD
Inspired Images
by Julie Danan