Gazing skyward at night and spotting the moon, I feel greeted by a friend who shows up in many different outfits and moods. Sometimes she appears as a thin crescent in the dark night, sometimes a fully glowing round beacon with a halo. Sometimes she floats above the horizon, a giant orange orb lit by the setting sun. Other nights she peeks demurely from behind a veil of shifting clouds. Most wonderfully, sometimes I gaze up in the morning or at dusk and find her winking at me then, too.
The Moon is important to life on earth, including regulation of tides, influence on nocturnal animal behavior, and even stabilization of the earth's rotation on its axis. The Moon is also an important symbol in Jewish tradition. We base our calendar and holidays primarily on the moon and its cycles. In Rabbinic tradition, the Moon and its cycle of restoration became a symbol of the Jewish people. In Jewish mysticism. the Moon is associated with the Shechinah, the feminine Divine Presence, and with the role of women in general. Celebrating the new moon (Rosh Hodesh) and blessing the waxing moon (Kiddush Levanah) are ancient traditions that have become important expressions of contemporary Jewish spirituality.
Choose your favorite Pathway, or follow them in order: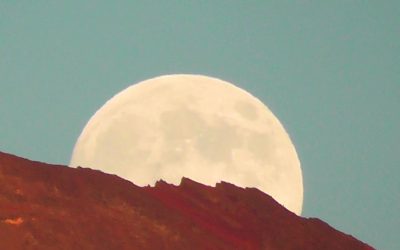 Enjoy a beautiful full moon in nature anytime with this serene and meditative video that starts with verses from Genesis. The video continues with calming views of the Oregon lake and mountains. Explore the Moon's relationship to time and renewal, or return to...
Inspired Images
by Julie Danan