Seeing a rainbow creates a sense of enchantment and rainbow colors in the heavens have long stirred the human imagination. A rainbow is not a physical object, but an "optical and meteorological phenomena" that shows us the spectrum of visible light, often dramatically set in the clouds or against a waterfall. The most beautiful natural settings are often the most fertile grounds for rainbows, but their magic can surprise us anywhere, causing us to pause and connect with our surroundings.
Choose your favorite Pathway, or follow them in order: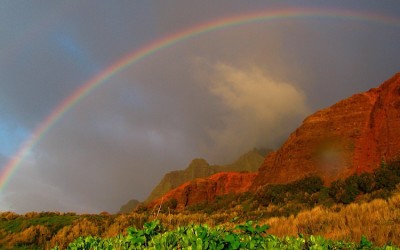 At the end of the story of the Great Flood (which begins in Genesis 6:9), God declares that the rainbow is a sign of the covenant between God and the entire earth, that God will never again destroy the earth with a cataclysmic flood. God said, "This is the sign of the...
Inspired Images
by Julie Danan