I was off from my own congregation the week after the Holidays and prayed at a lovely Reform temple in the Berkshires. Despite enjoying my break, I felt burdened by a loss of hope around the violent situation in Israel. As I prayed the Amidah, the standing prayer, my eyes lit on a footnote with a message from the beyond: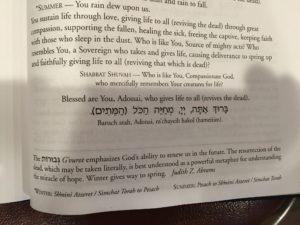 Gevurot emphasizes God's ability to renew us in the future. The resurrection of the dead, which may be taken literally, is best understood as a powerful metaphor for understanding the miracle of hope. Winter gives way to spring.–Judith Z. Abrams
Gevurot, God's might, is the second blessing of the Amidah (standing prayer) in the traditional Jewish prayer service.
Rabbi Judith Abrams was my Talmud teacher. That's how I thought of her, but of course I was just one of hundreds of students that she taught and touched over the decades. One year before, we had been scheduled for our weekly phone-in lesson and she texted me a reminder. I postponed, because it was a holiday. Before our next class, she died suddenly of a heart attack at age 56.
As I stood in that chapel reading her words, I felt my beloved teacher reaching out to my heart, with a message of hope from beyond the great divide. At that moment I realized that it was the week of Rabbi Judith's first yahrzeit, the anniversary of her passing. I also realized that it was Parashat Noach, the Torah portion where we read the story of Noah and the flood, and no coincidence that we had seen a huge rainbow overhead as we drove up to the mountains, and a small one appear out of nowhere in the dining room that morning. Just like the rainbow on Rabbi Judith's Facebook banner that I have shared here. Just like the local rabbi's Torah selection that morning about the Keshet, the rainbow. The rainbow, unexpected and magical, is a sign of hope and grace.
–Rabbi Julie Hilton Danan
Featured Image: Sedona Rainbow, Rabbi Alicia Magal
Put on a Rainbow Tallit (prayer shawl), or return to the Gateway of Rainbows.