Gardening today is becoming  one of the most innovative areas of Tikkun Olam, healing and repairing the world. Community Gardens and sharing of garden harvests help the environment and feed the hungry while fostering community.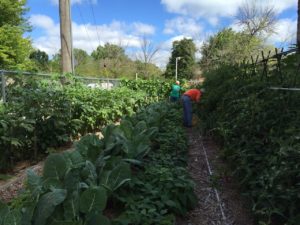 Community Gardens are springing up across America, including at synagogues and other faith communities. KAM Isaiah Israel, my sister's congregation in Chicago, is especially noteworthy. Their urban farm in the Hyde Park area donates thousands of pounds of fresh produce to people in need every year from June through October. Read all about them here and here. 
Urban Adamah in Berkeley, California, welcomes 10,000 visitors a year to educational programs and community celebrations at its farm and community center. They offer a residential leadership program for young adults and a summer camp for children. Ninety percent of the produce grown at the farm is donated through a free farm stand to help those who would otherwise not have access to fresh produce.
Here a great overview of the Local Food movement and how to get involved: https://www.ecowatch.com/local-food-movement-facts.html
Near my former home in Westchester, New York, there is a community garden at a local church that donates fresh vegetables to a food pantry, and an organic farm at CSI, a local synagogue that even runs its own Farmer's Market as well as donating to a food bank. (Check out their photo Gallery in this Gateway.)
Listening to some recent TED Radio Hour podcasts, I learned about some truly amazing community gardening stories, from "gangsta gardener" Ron Finley, who turned his South Central LA yard into a free food garden providing health, inspiration and hope to his community., to the "incredible, edible" North England town of Todmorden, covered in edible gardens shared by all! Their motto: "If you eat you're in."
Consider and Comment: Have you ever participated in a community garden or considered sharing your garden with the community? Does your synagogue have space for a garden or even a small scale organic farm, or do you already have one? I would love to hear your story!
Featured Image: Marymoor Park Community Garden, Redmond, Washington, from "King County Parks Your Big Backyard, via Flickr
Learn about the renewal of the Jewish Sabbatical Year for the earth (shemitah), or return to the Gateway of Gardens.