This post in the Gateway of Mo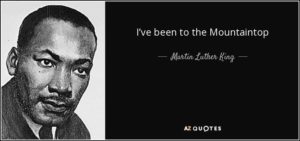 untains contains a recording in which Cantor Jack Kessler chants the words of the Rev. Dr. Martin Luther King Jr's "Mountaintop" speech to traditional haftarah trope (cantillation of a selection from the prophets). It helps the listener to hear and absorb Dr. King's words as a prophetic message of our time.
I hope that it will add to your observance and appreciation for MLK Day. Jewish organizations are among the many observing it as a Day of Service to others.