Nighttime can be a good time to turn off screens and snuggle in bed with a good book…or a great podcast.
Nocturne is a very creative and thought-provoking podcast about life at night. I don't usually listen to it at night, because it's too interesting! Produced by Vanessa Lowe, "Nocturne is essay radio – a hybrid form of audio storytelling that blends elements of documentary, fiction and sound-art." Topics include lucid dreaming, insomnia, entering darkness to heal pain, and sleepless nights with young children. These podcasts are artful, original, and thoughtful. With permission of Nocturne, here is one to get you started, a collection of night soundscapes: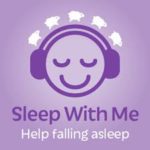 By contrast, the next podcast is not about content but about relaxation: Sleep With Me Podcast  is my secret weapon in the battle against insomnia.  Drew Ackerman, a.k.a. Scooter, tells rambling and "ingeniously boring bedtime stories" that distract my racing mind just enough to allow me to drift off to dreamland. I've recommended it to many friends. Besides that, Scooter just seems like a mensch (good guy).
And since this website focuses on Jewish content (and the two podcasts above do not, although I often find meaningful spiritual connections on "Nocturne"), here are a couple of lists of interesting Jewish Podcasts and more Jewish Podcasts your listening pleasure!
Do you have a favorite podcast for bedtime or one with Jewish content? Please comment and share.
Laila Tov לילה טוב Good Night!
Join us around the campfire at the Sharing Circle of Darkness, or return to the Gateway of Darkness
Featured Image: Hawaiian beach a sunset, Elisheva Danan.
Return to the Gateway of Darkness.