The rainbow, with its varied and beautiful refracted hues has become the symbol of diversity, including in our Jewish communities: diversity of gender identity and sexual orientation, race and ethnicity, and physical or intellectual ability, among other factors. The Torah teaches that every human being is created in the divine image. Check into these organizations that foster diversity and inclusiveness in the Jewish world (I love noting how often retreats and camps are part of the work!):
When I think of the rainbow, of course the first thing that comes to mind is LGBTQ pride. Keshet (Rainbow) is an award-winning organization that seeks full equality and inclusion of lesbian, gay, bisexual and transgender Jews in Jewish life. It is a great resource.  Camp Tawonga, a Jewish summer camp near Yosemite, was the first to offer an LGBTQ family camp, creating community in nature.
SVARA, founded by Rabbi Benay Lappe, is a "traditionally radical" Queer Yeshiva that encourages LGBTQ (and everyone) to learn Talmud in the original  so that "those who were once outsiders have become trustworthy, courageous, and authentic transmitters of the tradition." Besides courses in Chicago and beyond, they offer Queer Talmud Camp in beautiful natural settings in California and Wisconsin.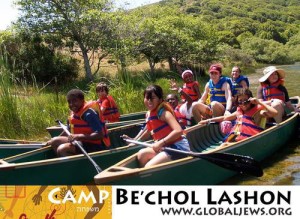 Another rainbow can be found in recognizing and celebrating the diversity of race and ethnicity in the Jewish community. Bechol Lashon (In Every Tongue) promotes, grows, and strengthens the Jewish people through ethnic, cultural, and racial inclusiveness. They help us remember that Jews come in a rainbow of colors and cultures. Programs include summer camp and family retreats.
Finally, a diverse Jewish community is one that is accepting and inclusive of people with differing abilities. The Jewish Inclusion Project works with synagogues, summer camps, and schools to make Jewish life more inclusive for people with disabilities, whether physical, developmental, or learning disabilities. A different Keshet (Rainbow) organization serves Jews with intellectual disabilities and their families. Located in the Chicago area, they provide a rainbow of programs (including summer camp) for individuals with intellectual disabilities. More Jewish communities are providing support for individuals on the Autistic Spectrum as well as those with with developmental disabilities and learning disabilities. Check with your local Jewish social service agencies and your local congregation to find out how to get involved.
Put it all together and we can celebrate more open and welcoming communities with the "big tent Judaism" model, that encourages Jewish communities to celebrate diversity, welcome all, and lower barriers to participation.
Featured Image:  "It is a tree of life to those who hold fast to it." (Image found on Pinterest, source unknown. If you know the source, please let me know so that I can seek proper permission to repost with photo credit.)
Learn about the Rainbow Covenant, or return to the Gateway of Rainbows.