אמֶר אֱלֹהִ֗ים יְהִ֤י מְאֹרֹת֙ בִּרְקִ֣יעַ הַשָּׁמַ֔יִם לְהַבְדִּ֕יל בֵּ֥ין הַיּ֖וֹם וּבֵ֣ין הַלָּ֑יְלָה וְהָי֤וּ לְאֹתֹת֙ וּלְמ֣וֹעֲדִ֔ים וּלְיָמִ֖ים וְשָׁנִֽים׃

God said, "Let there be lights in the expanse of the sky to separate between day and night; and they will serve as signs and seasons, for the days and years.
The Torah's creation story assumes an orderly progress of the seasons, time marked by the changes in sunlight and moon-phase. This seasonality is described as part of the goodness of creation. The Hebrew calendar is both solar and lunar, with months based on the cycle of the moon adjusted periodically to the solar calendar. It is attuned to the seasons of Israel, with Sukkot arriving with the fall harvest, Passover celebrated as spring emerges. This sense of the blessings of seasonality will be repeated throughout the Bible:
וְנָתַתִּ֧י מְטַֽר־אַרְצְכֶ֛ם בְּעִתּ֖וֹ יוֹרֶ֣ה וּמַלְק֑וֹשׁ וְאָסַפְתָּ֣ דְגָנֶ֔ךָ וְתִֽירֹשְׁךָ֖ וְיִצְהָרֶֽךָ׃

I will grant the rain for your land in season, the early rain and the late. You shall gather in your new grain and wine and oil.
This chapter of Deuteronomy, found in the second section of the Shema (the central Jewish prayer declaring God's unity), also warns that failure to live by God's laws results in disruptions of the seasonal rhythms and weather, leading to famine and exile.
In another classic example of unseasonable weather as a sign of divine displeasure, God sends a thunderstorm during the summer wheat harvest as a sign of disapproval of the people's incessant demand for a king to make them "like all the other nations."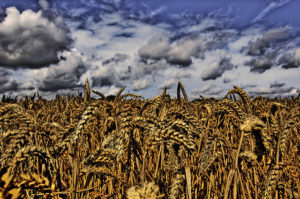 It is the season of the wheat harvest. I will pray to the YHWH who will send thunder and rain; then you will take thought and realize what a wicked thing you did in the sight of the YHWH when you asked for a king." Samuel prayed to the YHWH, and YHWH sent thunder and rain that day, and the people stood in awe of YHWH and of Samuel.
While modern people discounted such theology of divine reward and punishment enacted through weather (and a few modern Jewish prayerbooks took out that second paragraph of the Shema), some have now come to understand these passages anew as a metaphor for the vicissitudes of Climate Change. When we fail to steward God's creation, we wreak havoc on our environment and help to create our own afflictions, including extreme weather.
Consider and Comment:  What is the season as you read this? Are you immersed in it, enjoying it, or trying to insulate yourself from it?