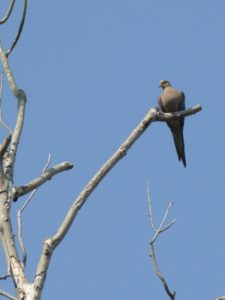 With a new post on the challenges of being a peace-seeking dove in the human world, the Gateway of Wings is complete (for now!). I've enjoyed creating this Gateway (content page) about birds and other winged creatures, and it has sparked my own interest in birding and bird (and butterfly) photography.
I'll be sending out a letter to all website subscribers, so sign up with the form on this page if you want to keep in touch!
With Rosh Hashanah, the Jewish New Year, right around the corner, I'm very busy as a rabbi and probably won't be posting much, but be sure to take a look at Wellsprings of Wisdom posts about customs and themes of the season, including Shofar videos and how to do Tashlich at a flowing stream or other natural body of water.
I'm continuing to learn about exciting new initiatives of Jewish spirituality in nature, and adding or updating them in the Resource Guide so that you can find a great retreat, adventure, or organic farm experience. I do this as a public service at no fee, and listing does not imply endorsement; please check them out for yourself!
Please enjoy exploring all the Gateways on Wellsprings of Wisdom.They are not time-sensitive and the idea is to explore what interests you, whether by individual pathway (post) or by theme. There are now fourteen Gateways to explore!